Previous meetings & events:
Sunday, 15 March 2020; 11:00– 12:00: Rangers station
Beginners session – camera settings. A short walk around Bollington Recreation Ground where you can try out the different settings on your camera. Learn what the various dials and settings are for. Members from the Bollington Photographic Group will be on hand to help you get more from your camera.
Thursday, 16 January 2020; 19:00– 21:00: The Holly Bush
Meeting to discuss the winter programme, website etc. –
Hosted by Janet Beech
Andrew will discuss his approach to astrophotography – both with a simple tripod / wide-angle lens set-up and also with a more sophisticated arrangement using a MSM Rotator. Andrew will also briefly touch-on how to post process the images using Starry Sky Stacker and Starry Landscape Stacker. He will also discuss how to photograph star trails together with his experience using PhotoPills on a smartphone.
We will meet upstairs in the Lime Tree.
Thursday, 24 October 2019; 19:00–21:00: Bollington Print Shop
Topic: 'Six in ten minutes' – hosted by Janet Beech
If you wish, bring along six of your best recent photos and take ten minutes to talk about them.
Bollington Festival 2019: 10–27 May 2019
The Photographic Group has a mission statement to document the life and locations of Bollington and the Bollington Festival 2019 is a huge experience for our town. This is the third festival that the group has been involved in and we have been out and about, cameras and official badges on show. 
We have documented the whole set up procedure already and are now very busy taking photos of as many events as we can. 
Eventually we will refine the thousands of images we have accumulated into some of our very favourite and these will be put onto one of our galleries.
Sunday, 12 May 2019; 14:00–16:00 – meet at: Adlington Road Car Park
Event: 'A Smart Phone Camera Challenge' – led by Andy Langdon
A 3.6 mile walk around the streets and footpaths of Bollington and Kerridge with plenty of opportunities to photograph both the familiar and unfamiliar using a smart phone. Consider composition and unusual angles. Also consider using the various features available on your smart phone such as black & white, HDR, differential focussing, close-up, panoramic, single colour etc. Walking grade: Easy to moderate with an ascent of 700ft. Well behaved dogs on lead only.
Sunday, 28 April 2019; 14:00–16:00: Bollington Arts Centre
Bollington Festival – Framed … A retrospective exhibition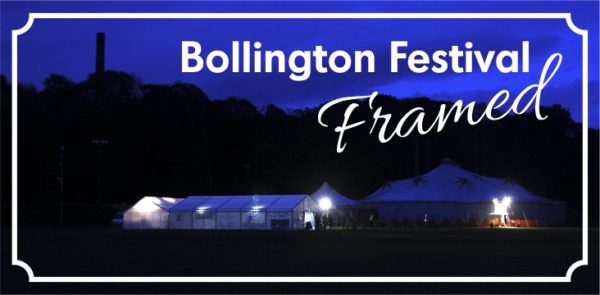 The Bollington Photographic group were invited to make a record of events during the 2014 Bollington Festival.
Along with a massive 15ft, full wall photographic collage, the curated images in this exhibition are some of our best liked festival photographs, selected from our photographic archive of Bollington's heritage, its life and locations.
Artists in residence from 14:00 – 16:00
Good Friday, 19 April 2019; 14:00–16:00 meet at: Scout Hall, Albert Road
Event: 'Infrared photography walk' – led by Andrew Huggett